EV Bullen are proud to announce the launch of our new website!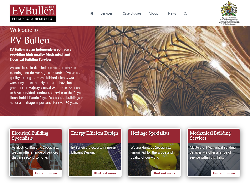 Our new website is now Live! As well as looking crisp and new on desktop devices it is also fully mobile and tablet friendly and makes it easy to find any information about what we do.
The new website highlights the main services we provide including Mechanical and Electrical Engineering projects, including Heritage, The Royal Household, Universities, Cathedrals and Theatres. We have included some of the high profile projects we have worked on recently which we hope will showcase our multiple skills and highlight the Heritage Buildings work that we have carried out over 30 years. Please contact us if you would like further information on more of our projects.
We also will be using the website to introduce our sustainability credentials that we are already incorporating into our everyday work, check back for more information.